May 24th, 2022
By: Coach JD Gooden
The foundation is the most important part of building anything. It pertains, not only to a structure- it is the beginning of everything! One of the most interesting and profound events that I have ever lived deals with the building of an athletic program in Camp Hill, Alabama. This story is not about the achievements of one person, but it is about the courage and character of a small group of high school kids who overcame the odds that they were confronted with. It is a tale of limited athletic ability and very little knowledge of the techniques that were needed to make them successful.

The story begins when I interviewed for the job of coach and athletic director. I knew the reputation of the school in sports and I have to say that it left a lot to be desired. The President of the school told me that they were looking for someone who would get the athletes in good physical condition. He told me that he was tired of players getting hurt late in games. He said it appeared the players were giving up late in the games and that he was concerned that the equipment was in poor condition and that the school was not in great financial shape. Based on the pay I had been offered I already knew that! I was also told that we would play our games on the local high school's field. The Dean was an old high school friend and he said that things were looking good. The school had started work on a field and enrollment was looking good. The position was offered and I accepted it. Why would anyone take a job like this? God only knew!

In September of 1962, the first block was laid in the foundation. To my amazement, seventy kids reported to football practice. That was half of the all male population of the school. Wow, things were looking up. These kids were big and they looked good to me. My first problem was finding equipment for all these guys. I asked some of the local coaches to let me use any gear they did not need. They helped any way they could. My biggest problem was headgear and we asked Auburn University for help. I have always been so thankful for the help that we received from everyone.

The team worked out in shorts and helmets for the first week. The coaching staff (one assistant and me) taught football 101. The rules were simple: never take your headgear off when on the field, never walk when on the field, never sit down on the field (rest on one knee), never use vulgar language, always answer yes and no sir, no one will question the authority of the coaching staff or any official in a game, we will play as hard as we can, we will go headhunting, but it will be clean football, respect your teammates and help each other both on and off the field, take care of your equipment, work as hard as you can and take pride in your work. If you find that football is not for you and you would like to leave the team, come to me and let's talk. Bring all of your equipment to me if you are excused from the team.
One of my greatest disappointments was the fact that by the end of that first week only thirty players remained. A few of the kids who left had some ability and I hated to see them leave the team. I still have respect for those who came to me before they were excused, but those who just walked away showed no class or character and we were better off without them. Several of those kids came back later and asked to be reinstated, but were told that they were not dependable and therefore didn't fit into the plan we had for the program. For selfish reasons, I wanted to let a few of them return to the team, but I decided it would be unfair to the kids who had stuck together. In my opinion, that was another block in building a good foundation.

The second week of practice was frustrating and disheartening. More young men left the program and the coaching staff had to continue to juggle positions in order to get players where they were needed. The kids accepted the changes and adjusted as well as they could. At this time, I had serious doubts about our tough approach and I was afraid that we would not have enough players to field a team. However, we continued to work hard and those that finished the second week were solid and dependable young men. When that week was over and we started to put in the game plan for our opening game, only 17 men, and I do mean men, remained on our team. They had passed every test and proved themselves that they could be proud of their effort. While they were not great athletes, they were the kind of people you would want on your side if you went to war. I still love and respect that group of seventeen. They were truly tight. Another block was laid in the foundation.

During the preseason practice my first son was born. I remember how proud and happy I was that God had given my wife and me a healthy child. And I had great hope that he would grow up to have the same courage and character of those seventeen men. September of 1962 was a huge month for me. I became a head coach and had my first son. Looking back, I can remember how much responsibility I had, and to be honest with you, if I had not been young and bulletproof, I would have been scared to death.

You had to love this group of guys for they practiced hard and they played tough. They had never learned to win, but they believed in each other and they never gave up. Though the odds were stacked against them, they had a dogged determination to fight to the end. One night after a thirty point defeat by a solid football team, I overheard one of the seniors say, "they scored the points, but we physically whipped their tails." The reply from his teammate was, "you got that right, I believe we will whip them next year." Another block was laid in the foundation.
On one end of our practice field, there was a hill with a sharp incline and there was a big oak tree at the top of the hill. The distance from level ground to the oak was about thirty yards. Sprints up the hill and around the oak and back down were not only a good conditioning drill; they were used to give players time to think when they made a mistake. Over the years, I have heard from some of the people that ran oak trees that they had wished many times they had cut it down. That oak is still there and I feel that it will still be there when all of us are gone. When visiting the school, many of the players like to stop by and check out that old tree. That oak tree stood as a symbol of what the team wanted to be. It was strong, tough, and unbending. Another block was laid in the foundation.

There were five seniors, five juniors, five sophomores, two freshmen, and one post grad student on that team. The grad student needed to complete some courses so he could qualify for entrance into college. It's strange that the numbers of the class members turned out like that. It certainly was not planned that way. Three of the seniors who had played the year before had to make position changes. As it turned out, a center was moved to fullback, an end was moved to guard, and the fullback from the previous year became a center. One of the juniors who started at tackle was a cheerleader the year before. The other starting tackle, who enrolled in 1962, was an intense over achiever. Off the field, he was a nice, easy-going kid, but when he stepped on the field he was ready to get after you. When he graduated, he walked on at a school in Birmingham as a tackle. His weight? 175 pounds!

In 1962, we had an eight game schedule. As I recall, including our own, we were the homecoming team for four of our opponents. I told our team that we had to be very popular because we were invited to be "homecoming queen" for most of our road games. I told them not to worry, that there would be "payback" coming, and when it happened I would remember them as the men who started it all. I told them that they would get credit for laying the foundation for the future.

During the first year, I was in touch with my high school coach two or three times each week. I ask for advice. I told him I didn't know what else we could do to help these guys. He told me to cut back on physical work. He told me to work more on the mental approach of the game, to find some way to make the players more confident. He told me that most coaches worked players with limited ability. He told me several times that based on what I was telling him, the squad was giving everything they could. He told me to do the best that I could and try not to worry. He told me to relax and let the kids have some fun.
I don't believe this bunch of players ever realized what a great contribution they made to the school.

They not only impressed the coaches of opposing teams with their attitude and hard nosed football, they developed a reputation of being good people. The respectability that they gained was a great gift to their parents, the school, the coaches, and themselves. I puffed up when other coaches told me how much we had changed and they knew things would get better for us. Another block was laid in the foundation.
I want to thank the assistant coach for all that he did to help us along the way. And I want to thank the administration for their support and encouragement. But most of all, I want to thank my wife for her support and loyalty, and I want to thank that group of young men who were the people who laid all the blocks in the foundation.

By the way, for all the people who read this story, our record for that year was 0 wins and 8 losses. We only scored 18 points, but I can guarantee that those men were winners!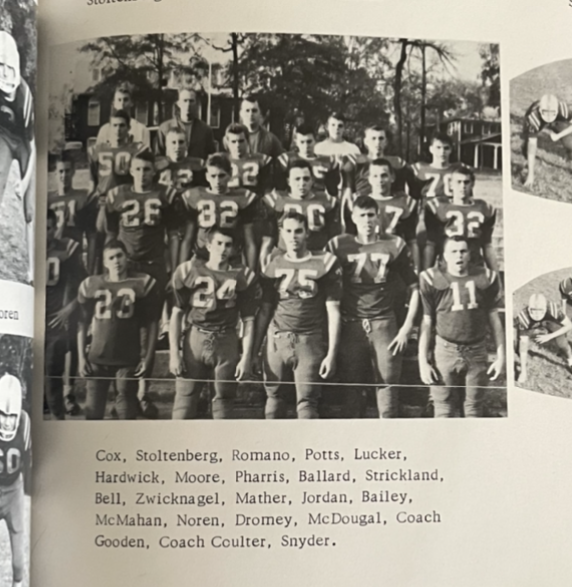 —-Editor's note: Coach J. D. Gooden was the first head football coach at Lyman Ward Military Academy to walk on the current Ranger Field. From 1962 to 1973, Coach Gooden served as Assistant Dean and coached football, basketball, and baseball. Varsity football season in 1970 was one of the best in the school's history. In 2008, Ranger Field was dedicated to Coach Gooden. Coach Gooden continued to live across the street from campus and show his support for the Rangers. He could often be spotted in the stands of Ranger Field on Friday nights. Coach Gooden passed away on February 14, 2021. He is remembered as a legendary coach and wonderful friend on and off the field.

We are continuing to improve Ranger Field. Our latest upgrade is a new scoreboard! To learn more, visit this link: https://southernprepacademy.org/give/scoreboard/