Southern Preparatory academy
Why choose Southern Prep?
Why attend a boarding school?
A boarding school environment provides many more benefits for your child than most people initially realize. From an education standpoint alone, there is a huge advantage to living with students who are taking the same courses: it gives them opportunities to teach each other after class, learn from one another, and have easy access to study groups for every course – every student gains from the process. The much more impactful advantage to boarding school is the social development that teens are able to experience. For most teens, going to a boarding school gives them much more independence than they would have at home, but they are still able to be in a safe and structured environment. Giving teens the opportunity to manage their own time grants them an extremely smooth transition when they go to college.​
What does an ideal student look like?
It's really important to choose a boarding school that has the right atmosphere for your child. When the school doesn't align with what the child needs, they risk having a poor first semester and eventually going back to their home school. At Southern Prep, the students who perform the best are those who are generally overlooked in a traditional school setting. We don't teach kids to love school, we find students who want to reach new horizons, and give them everything they need to accomplish it.
What does Southern Prep do specifically to help this student?
Southern Prep is very cadet focused, and we know our students want to succeed in the classroom and beyond. To accommodate this, we have molded our instructional time in a way that helps our students dive deep into the learning experience. Studies show that boys perform better when they don't have to transition as much throughout the school day. Having four 90-minute classes rather than seven 60-minute lectures allows our cadets to truly delve into information. In these extended courses, your son will have more time to ask questions and complete experiments. This classroom structure is also designed to create an environment that fosters conversational learning rather than students simply being required to regurgitate information. Not only does this enable your child to develop a love of learning, it also inspires him to build courage. Faculty, staff, and students are all on a journey to grow and thrive together and we pride ourselves on fostering relationships that include mutual respect for one another. Of course, we also want our students to be satisfied outside of the classroom, so we also offer activities such as basketball, baseball, and soccer and more. Students also have a wide variety of clubs to choose from, and in the event where they don't find one that piques their interest, we strive to give them the resources to form one of their own.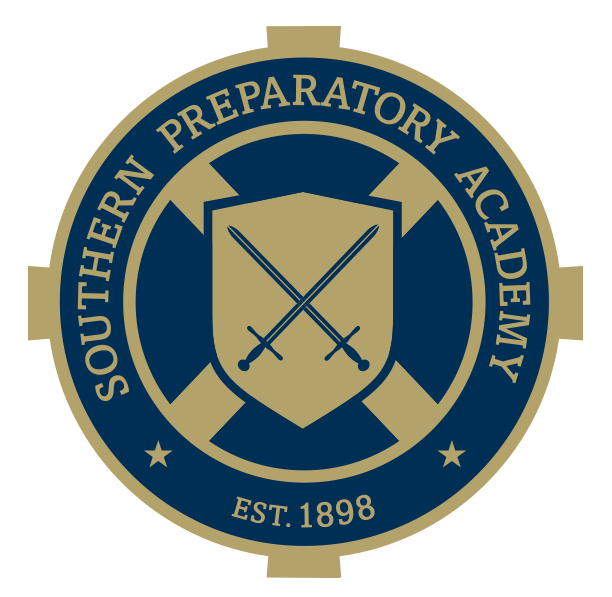 LOCATION
Southern Prep is located 113 miles from Atlanta, GA, 19 miles from Auburn University, home of the Auburn Tigers, and 93 miles from Birmingham, AL. Being located in Camp Hill, AL, allows us to be rural, yet accessible. 
FACULTY
Our staff is full of passionate experts who are excited about teaching and contribute to learning environments where students are provided with individual attention when they need it most.
ATHLETICS
Southern Prep is a member of the AISA and competes against schools across Alabama. Our focus on sports is not necessarily about skill level, but rather the motivation and drive to improve themselves and the team.
STUDENT BODY
Southern Prep is a small school on purpose, with an average of 110 cadets.
90% of cadets attend college or trade school.
10% of cadets enlist in the U.S. Military.
100% of cadets with a post-graduation plan.
CLUBS AND ACTIVITIES
One of the benefits of attending a small school is the opportunity to participate in various athletics and activities. We offer Sword Drill, Color Guard, Beta Club, Scholars' Bowl, and more. 
LEADERSHIP
Our military structure creates cadet hierarchies based upon motivation and inspiration. This system of earned privilege and respect is vital in teaching cadets to take accountability for their actions.
ACADEMICS
Southern Prep is fully accredited through AISA and is a member of the AISA. We boast a college-preparatory curriculum that offers STEM programs, AP courses, dual enrollment, and signature programs. 
SIGNATURE PROGRAMS
At Southern Prep, opportunity for growth is far from limited. Our goal is to provide students with a link between learning and doing by tying knowledge to hands-on experience.
MIND, BODY, AND SPIRIT
Cadets across campus have the opportunity to better themselves in a variety of ways, such as through the weekly worship service in the Dixon All-Faith Chapel on campus, a non-denominational service that strives to inspire.
The Southern Prep Experience
We are a community of students, faculty, and staff who know each other well, celebrate our victories, band together in times of challenge, and possess mutual respect for one another. 
We believe that when your son becomes a part of our community, we become your extended family. 
We support your continued involvement throughout your son's experience, and we hope that you, too, will experience the strength of our community.
"Incredible group of people who genuinely care about our son. The attention to details and the focus on academics was just what our son needed. Love this place!"
Charlene C.
Current Parent
"My son loves the fact that the teachers can spend plenty of time with him explaining things because the class sizes are not huge like in public schools. All of the staff are very friendly and helpful. If I would have known how much he was going to enjoy his time there we would have sent him sooner!"
Marian H.
Current Parent
"This is an amazing school for growing future leaders of the world. I graduated from here in 1995 and it prepared me to be a strong leader in so many ways."
Jeremy F.
alumni
"BEST PROGRAM EVER! My grandson has made major accomplishments! So Thankful!"
Debra M.
Current Grandparent
"Southern Preparatory Academy is ground zero in the development of tomorrow's leaders. Everything they do is focused on building responsibility, creating discipline, achieving academic success, and becoming a true leader of society. If all schools were like Southern Preparatory Academy, we wouldn't have nearly as many of the problems that currently face our culture."
Noel S.
supporter
"There is simply no institution anywhere that cares as much about the development of young men as Southern Preparatory Academy. The staff are 110% dedicated to the success of the cadets. I can confidently say that Southern Prep changed my son's life, and he will never forget the valuable lessons he has learned."
Craig C.
current parent
"This school did wonders for my boys. In a society where public schools have become so willing to accept students as failures, I really wish more people considered this option for their children. I wish places like Southern Prep were more available nationwide. I feel so blessed that my kids have this opportunity. I've given him the best opportunity and Southern Prep is making due on their mission- and my son is reaping the benefits. Thank you, Southern Prep!"
Micah A.
current parent
"Southern Preparatory Academy has been a tremendous blessing for my son. He attended a couple of years ago during summer camp, and this year he returned for his senior year. In the short time he's been there, he's become a much more confident and competent student. I've been extremely pleased with his behavioral and academic progress. My only regret is not enrolling him sooner."
Jill C.
current parent
"I attended the academy from 1977 to 1982. The experience I gained at the school prepared me as a young man for the future. I look back at my days at the academy and think how fortunate I was to have attended such a wonderful school."
San G.
Alumni
"I had an awesome experience while attending 1981-83. It gave me a solid foundation for LEADERSHIP, character, honor, and other dimensions that you rarely find at other public or private schools. I only wish that we had the Aviation program during my day."
Brian S.
Alumni